Dip dye has been a big trend this year- in hair, clothing, accessories. We've compiled some great inspirational DIY's and photos for you!
Inspiration Idea 1: Dip Dyed Hair
Lauren Conrad's bright pink tips are super cute and add a pretty pop of color.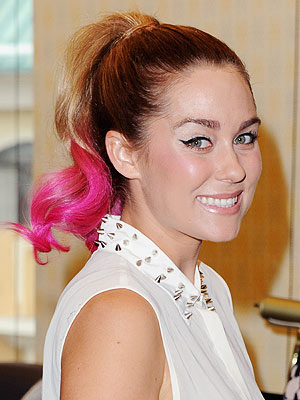 If you're not a pink person, don't worry! There's a bunch of other colors that your hair can be dip dyed in- blue, orange, green, purple... any color, really!
Want to try out this dip dye hair trend? Try this great video tutorial on how to recreate the look (non-permanent!):
Learn how to dip dye your denim shorts (denim shirts, too!) in bleach in this easy tutorial
If you have plain, white, boring shoes- add some color with this cute DIY dip dye idea (using onion skins as dye)!
This awesome tutorial shows you step-by-step how to create a cute dip dyed t-shirt inspired by J. Crew!

Street Style Inspiration:
So, it's actually very easy to become part of the dip dye trend. Are you looking forward to breaking out the bleach or dye? We sure are! Let us know by commenting if you were inspired to create some dip dye projects!
♥ Parisorn and Parisa